Written by Michael Forrester – Founder, President, and CIO of High Note Wealth
Happy Fri-YAY, peeps! The last couple of weeks of July had been relatively quiet…until we woke up Monday morning to discover that the Delta variant of COVID was, in fact, a problem and the market reacted by selling off 3% or so. Fast-forward to Friday and the S&P 500 made a new all-time high. So…business as usual.
The two unanswered questions hanging out there now are the aforementioned Delta variant and potential tax changes.  In terms of the Delta variant, the information doesn't really sound great with cases rising and the efficacy of vaccines against it open to interpretation.  Remember mask-wearing?  Well, that could be a thing again, but lockdowns seem impossible at this point.  Honestly, the down day on Monday had very little to do with COVID, but it makes for a tidy headline. Things must go down sometimes or it's not a "market". There still could be a negative virus "surprise," but that would take something more concrete than cases increasing. 
On the tax change topic, the ideas/rumors have been steady since the current administration took office.  That doesn't tell us what can or cannot get passed, but it has provided the market and participants time to absorb the information.   Similar to the virus, there could still be a positive or negative "surprise" in what actually gets passed into law, but if it's in the "rumor range," the market effect should be minimal. 
That's the catch-up portion today.  Below we have some recent housing numbers and even a podcast recommendation (gasp!).  We hope you have a fantastic weekend.   Please let us know how we can help.  All the best.
<<< HIGH NOTE QUICK HITS >>>
Housing Goes Click, Click, BOOM
When the rock band Saliva released "Click Click Boom" in 2001, they saw the future of the U.S. housing market.  They hid the economic Easter egg in plain sight, so this blogger could put the pieces together twenty years later. In their Alice-in-Chains-dating-311 style of the day, they crafted the hook that foreshadowed this housing chart today.  Taken literally, the lyrics may portray a story of a high school kid playing their stereo too loud, but they can't fool us.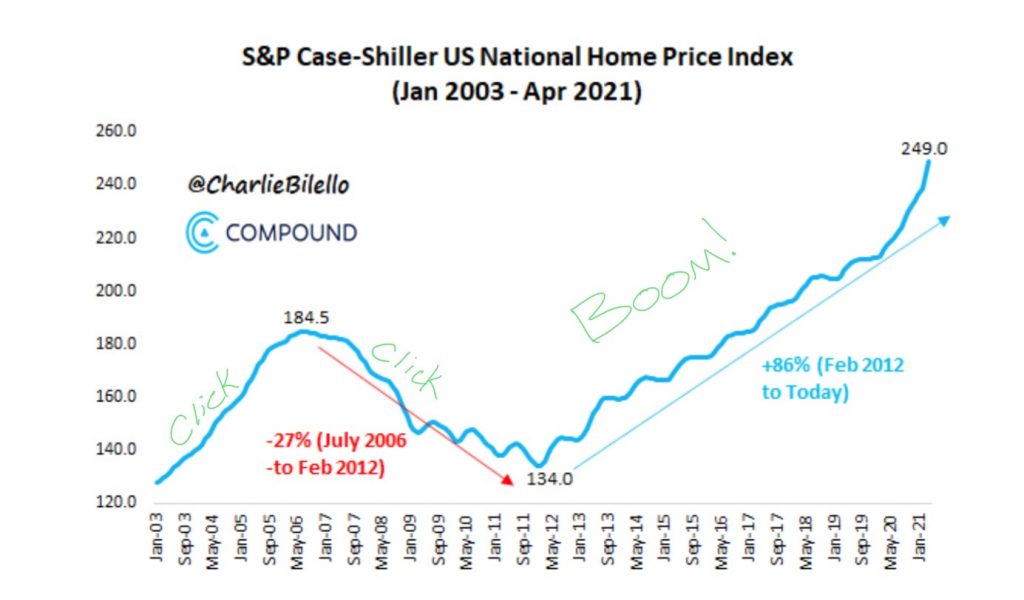 The Case-Schiller Housing Index is one of those metrics that's very easy to have an exaggerated reaction to whether it be dismissing it as too broad or using it as an immediate, actionable metric.   It's really neither of those things in our experience.   Professor Shiller's work, in general, is macro-economic focused and that's really what the home price index represents.  It's helpful to see trends and put current data in context.  At first glance at the chart, one could assume the housing market is completely overcooked.  That may be the case, but I believe Professor Shiller would say asset prices must be examined in comparison to additional inputs.  As in, if the 86% increase in home prices since 2012 is coupled with strong economic growth, job growth, and wage inflation, then it makes perfect sense.  Or it's possible that the asset price was starting at a suppressed level. 
Considering those additional outputs, it does seem a little overdone.  Pandemic aside, growth in the U.S. in the past nine years has been "ok," but not great, particularly in terms of wage increases.  Looking forward to the next five and ten years a plateau of some form looks likely.  That said, if mortgage rates are 3%, who's to say they can't go to 2%???  It sounds odd, but rates have done nothing but go down for thirty years.  The rates-must-go-up hill is not one we want to die on. Imagine telling a homeowner in 1982 that their kids would get a 30-year mortgage at 2.75% in 2021.
The year-over-year home price increase is the highest since they launched the index in 2003.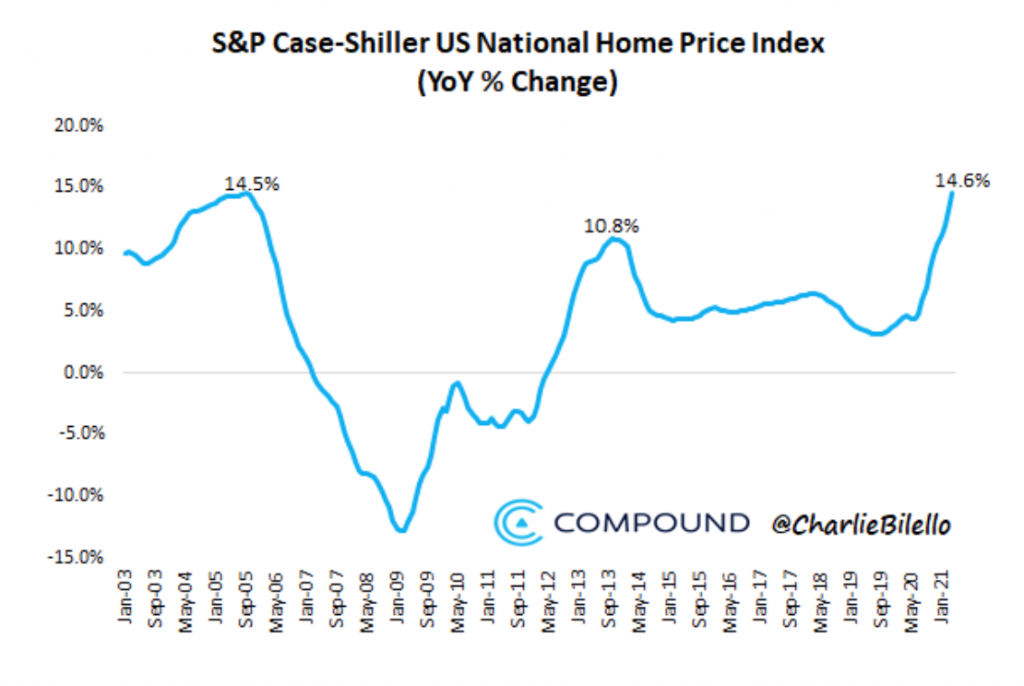 Here's the percentage increase by the leading cities…. Las Vegas and Chicago are the only two yet to make all-time highs.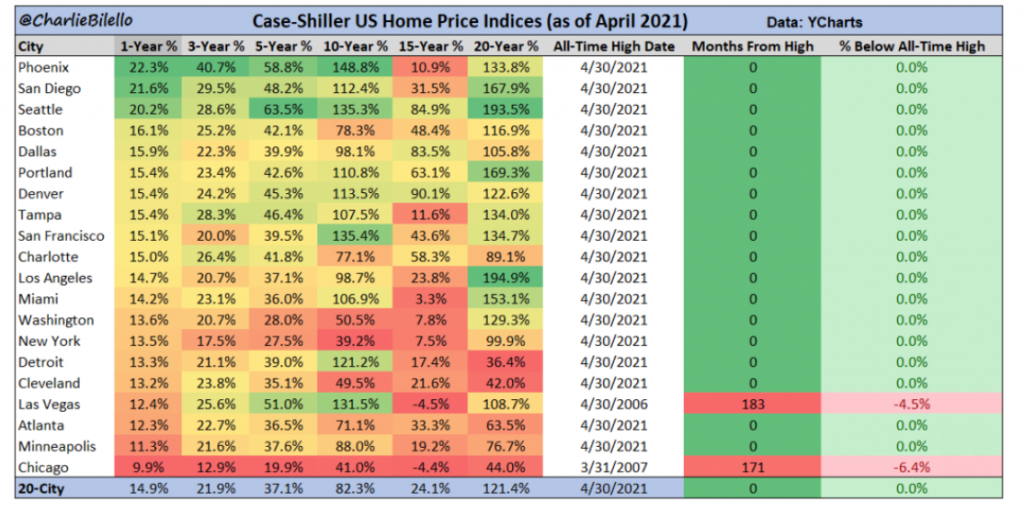 Bitcoin's Bernie M.
Want to understand cryptocurrency better?  Do you like true crime mysteries?   Willing to listen to a podcast?  Yes to all?  Well, do we have a recommendation for you!   There is a podcast series called "Exit Scam" available on Apple podcasts (link here).  It's the story of the largest Bitcoin exchange in Canada that didn't end well.  It's an interesting look into the earlier world of crypto and is darn right fascinating.  Here's the description from the source…

Social Security Surprise
With inflation officially showing up on the calculated metrics, the current estimate is for SS to increase by 6.1% in 2022.   That would be the biggest bump since 1983.  Wowza.  Additionally, there is a discussion in D.C. to change the inflation index used in the calculation.  Under current conditions, that would lead to even greater COLA increases.  Whether or not that has the support to get passed is hard to say, but something that we will keep our eyes on.  Here's an article to read a little more. 
High Note Wealth LLC is registered as an investment adviser with the Securities and Exchange Commission (SEC). High Note Wealth LLC only transacts business in states where it is properly registered, or is excluded or exempted from registration requirements. SEC registration does not constitute an endorsement of the firm by the Commission nor does it indicate that the adviser has attained a particular level of skill or ability.